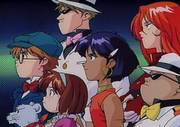 Marie en Carlsberg is a four year old girl who first appeared in Episode 5 ("Marie's Island").
She is found amongst the bodies of her mum, dad and dog by Nadia and Jean who discover she is alive and unconscious. They chose to look after her and Marie looks up to Nadia as a sister and sees Jean and Nadia as husband and wife.
She is really polite and always scolds people for having bad manners. This is first seen in Episode 11 when she is sat next to Jean who is reading a book at the table. When everybody chases after King after he attacked.
Marie en Carlsberg: Marie is a 4 year-old orphan found by Nadia and Jean whose parents were murdered by the Neo-Atlanteans. The two decide to stay with her and protect her. She is incredibly intelligent and charismatic for her age. Her playmate is "King" the Lion cub.
In the epilogue at the end of series an older Marie recounts what has happened to all the main characters. And it is revealed that she has married Sanson and is pregnant.